The title astonishes you because even though we thought we were good. Were not.
The NFL salary cap has swelled 44 percent in five years, from $80.5 million per team in 2003 to an expected $116 million this year.
The growth has left even some playoff teams flush with tens-of-millions in cap space as free agency approaches, but one team needs to trim another $6 million or so to live within the rules.
That team is the
Washington Redskins
, of course.
While at least a half-dozen other organizations lack sufficient cap room to operate comfortably, none can touch the Redskins for sheer largesse. Even after reworking several deals, the Redskins remained the only team above the projected cap, according to league sources.
We wonder what owner Daniel Snyder has planned for the start of free agency Feb. 29. The team's month-long search for a head coach, punctuated by the surprise hiring of Jim Zorn, proved most anything is possible.
If the Washington Post's sources are correct, the Redskins will make a run at Cincinnati's
Chad Johnson
. While the Bengals insist their leading receiver is not available, the Redskins do not discourage easily. In 2006, they committed $10 million in bonuses to
Brandon Lloyd
after acquiring him from San Francisco for third- and fourth-round draft choices.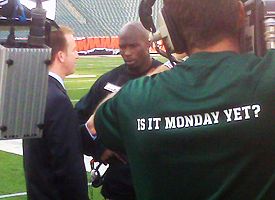 Washington reportedly is interested in acquiring Cincinnati's Chad Johnson (center), who would become yet another expensive marquee addition under Dan Snyder.
Imagine what the Redskins might offer for a receiver who actually can play.
Lloyd might have become an All-Pro if he could have drawn
Adam Archuleta
exclusively in coverage. Archuleta, effective as an in-the-box safety early in his career, collected $5 million in bonus money from the Redskins in 2006 before the team realized almost immediately that he wasn't right for their defense.
The Redskins showed relative restraint last offseason.
They signed linebacker
London Fletcher
and cornerback
Fred Smoot
to deals that together count less than $6 million against the 2008 cap. The team signed no other big-name free agents in 2007. But with Lloyd and third-string quarterback
Mark Brunell
eating more than $10 million of cap space between them, the Redskins need to clear room.
And for what?
Snyder's spending has bought two playoff victories since he purchased the team for $800 million in 1999. Money does not always buy championships.
Additional proof lies in the NFL Players Association's annual rankings of best-compensated players. The list ranks
the 10 highest earners at each position
, based on 2007 payouts. The numbers -- released to the media during Super Bowl week -- help determine how much teams must earmark for franchise and transition players, but they are instructive for another reason.
[+]
Enlarge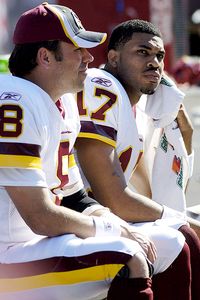 Fernando Medina/NFL/Getty Images
With QB Jason Campbell (17) the future of the franchise, former starter Mark Brunell (8) and his salary might be sacrificed.
The three highest-paid players at each position played for teams that won 219 games and lost 309 last season. Exclude the quarterbacks, who are often worth top dollar, and that 219-309 (.415) mark becomes 189-291 (.393).
San Francisco's
Nate Clements
, Baltimore's
Chris McAlister
and Kansas City's
Patrick Surtain
were the highest-paid cornerbacks. Their teams were a combined 14-34 last season.
Archuleta, now with Chicago, Oakland's
Michael Huff
and San Francisco's
Michael Lewis
were the highest-paid safeties. Their teams were a combined 16-32 last season. Clements played well in his first season with the 49ers, but what were his contributions ultimately worth? His coach, Mike Nolan, lost authority over personnel, while the team's record tanked.
The Redskins have managed to remain more competitive despite leading the NFL in "dead" money since 1994 with nearly $128 million, an average of more than $9 million per year, according to an NFL executive with access to league salary information.
Dead money piles up when teams release players before enough time has passed to spread the impact of large signing bonuses across multiple salary caps.
If the Redskins release Brunell, for example, they'll be able to subtract his base salary from the cap, but they'll still have to account for more than $3 million in "dead" bonus money that has yet to count.
The Redskins' dead-money totals have accelerated dramatically since Snyder purchased the team.
Their annual totals were $780,000 in 1994, $1.1 million in 1995, $1.4 million in 1996, $4.2 million in 1997 and $1.3 million in 1998. Subsequent totals have jumped to $7.6 million (1999), $5.7 million (2000), $14.8 million (2001), $13.2 million (2002), $14.4 million (2003), $11.2 million (2004), $20.1 million (2005), $21 million (2006) and $10.7 million last season.
That's an average of $1.75 million in annual dead money during the five years before Snyder purchased the team, but $13.2 million per year during his nine seasons of ownership.
Dead money isn't always fatal.
The
New York Giants
ranked among the league leaders with $18.8 million in dead money last season, and they still won Super Bowl XLII.
Dead-money figures for 2008 are too tenuous to project because teams are still shaping their rosters.
The Redskins are famous for paying massive signing bonuses, accompanied by low base salaries in the first few years of contracts. The strategy suppresses cap numbers early in the deal, but the dead money piles up if the team parts with the player earlier than anticipated. The Redskins frequently have reworked deals, pushing cap-related consequences into the future.
They cleared about $9 million in cap space this week by adjusting tight end
Chris Cooley
's contract, converting an $11 million roster bonus to signing bonus.
The Giants, meanwhile, curtailed their free-agent spending before last season. They committed a relatively modest $7.5 million in bonuses during the first month of free agency in 2007. The Redskins, despite what qualified for them as restraint, committed about $22 million in bonuses over the same period.
Fletcher proved to be a worthy addition. His production and leadership helped the Redskins fight through a season marked by key injuries and the tragic death of safety Sean Taylor.
Washington has enjoyed other offseason successes.
Marcus Washington
,
Clinton Portis
,
Phillip Daniels
,
Casey Rabach
and
Todd Collins
proved to be valuable additions in free agency, regardless of price.
But as the Redskins proved during their improbable playoff push, and as the Giants affirmed, winning requires more than fielding a high-priced roster. Some teams seize the moment and refuse to let go, often counter to spending totals.
San Diego, Jacksonville, Indianapolis, Green Bay and the Giants added no big-name players from other teams during the initial wave of free agency last offseason. They combined to win three division titles while posting a combined record of 58-22 (.725). They won eight playoff games.
The Redskins are fortunate to have an owner willing to spend whatever it takes to improve his roster. They'll be even better off when Snyder proves he knows when to keep the checkbook in his suit pocket.