THE DON'S
Crystal Ball
2009 SEASON
Midseason Analysis
By
DonCanabis/TheDon
Analyst/Godfather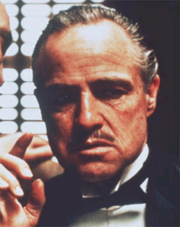 Last week has been the weirdest betting week in the NFL… and probably the best for Sportsbooks all over the world! There were 10 upset line bets of the 13 games, this means that 77% of the underdogs won the line; this is just unheard off, just surreal… Personally, I had a bad feeling and decided to sit and enjoy the games this week after two good weeks of profits.
Still, being a likely loser week for most, I'm GLAD I was a half point away of being over 50% against the spread (because NE only won by 10); one can expect weird weeks during a NFL season… it's common that things just won't go as you expected… It's just that I have never seen a wacky week like this!
It's midway through the season so it's time for my midseason review.
•Offensive Player of the year: Chris Johnson
hands down; he is the real deal. What's impressive about this kid, it's not only that he's leading all rusher by more than 120 yards and a ridiculous 6.7 yard avrg. What strikes me is that he has done it in a (2-6) team where he's the only real weapon and everyone is expecting him to get the ball! Titans are playing so bad almost always coming from behind that Jonhson doesn't get as much attempts as other backs because at some point Tennessee has had to abandon the run.
Runner- up: Peyton Manning. With all the secondary hurt, almost no running game, bad oline and 1st year WR he has his team undefeated and has posted seven 300 yard games.
•
Defensive Player of the year:
Troy Polamalu. Being in a sack driven league I know you would expect the sack leader this spot, please forget the stats! What Troy brings to the Steelers' defense is the swagger and confidence that makes it so dominant. He has only played in 4 games this season (missing 4 because of his knee injury in game one) but has helped turnaround this defense from one that folded late in the game into a dominant one that took the game against Minnesota and ended the game against Denver.
Runner –up: Elvis Dumervil. Some are more fascinated with Jared's season but the fact that 7.5 of his sacks came against the same team with a bad oline and a QB that hold's the ball too much for me this undermines his accomplishments. Dumervil has been a force and key part of the success of Mike's implementation of the 3-4 defense in Denver; the guy is fast, athletic and a warrior… Just remember the sack he made against Flozell Adams when he just stopped banded like in Matrix and got Tony Romo. This has to be one of the top 10 Sacks I've ever seen...
•
Biggest surprise of the Season: Miles Austin.
Some already knew about him and expect him to have a breakout year after T.O went out the door. He has a lot of talent: what he has done since he was named the starter in Week 4, is to lead the league in yard avrg per catch (Wr over 25 catches) with a mind blowing 22.7. Compared to other performers, the closest is DeSean Jackson with a 20.4 avrg and Mike Wallace with 17.5. Furthermore, what has been more impressive is how he can change the game with one play; just consider last week's catch of 49 yards and a game changing TD against Philadelphia after they had shut him down all day!
Runner –up: Darren Sharper. At his 34 years he's leading the league in interceptions with 7, and he has return 3 for TD (4 is you count 1 that was called back) he's having his best year in his career and it's a big reason why the Saints defense turned from a liability.
•Biggest turnaround: Denver.
I was a little inclined to pick Cincinnati after last week's the key win against Baltimore; however, Denver has performed above the pack this season. Just to name a few changes: Releasing Coach Czar Mike Shanahan, going for a rookie HC, trading away their franchise QB and having a big dispute with their top WR, and finally, changing their defense to a 3-4! It amazes me all these changes in one season and still being able to keep his team focus and optimistic!
Runner –up: Cincinnati. It only took Marvin Lewis 6 years and almost his job to have a dominant defense. A good Assistant coach and great draft picks have changed this team known more from their off the field drama into contenders.
•
Biggest Slump: Tennessee.
After a 13-3 season the loss of Haynesworth and the loss of their Defensive Coordinator I expected a drop from last year however no one projected a 0-6 start. This team has the talent so the drop was a huge surprise.
Runner –up: San Francisco Look I didn't expected a big season from them but after how they ended last year and their 3-1 start we all thought they would take the West but with a 0-5 record after that this has been a jaw breaker.

•Best Free Agent Pickup: Darren Sharper.
As I said before what he has done to the New Orleans secondary has been huge not only by the plays he has done but the confidence he has brought to those players… I'm just perplexed by the difference he has made.
Runner –up: Brian Dawkins/Mike Nolan. One man's mistake is another man's profit; the turn that these two people have done to Denver's defense is immense, changing it from a laughing-stock last year to a dominant force….Wow!
•
Worst Free Agent Pickup: Terrell Owens
. We all know the first thing T.O said to himself after he signed with Buffalo was "I'll show Jerry and Troy the mistake they made I'll show them all", we all know some fault falls in Edwards and the moves Juron has made to that team but, to have worst numbers that Roy Williams after 8 weeks it's just wrong.
Runner –up: Chris Canty. When NY took him I said not only they overpaid for the guy but where is he going to play. That team was overloaded with tackles and DE… so to pay a guy a 6-year $42 million deal to be a situational player was ridiculous to me. He has been hurt and only played in 2 so far with 2 tackles.
•
Comeback Player of The year: Cedric Benson
. Before the Bengals picked him up last year he not only was considered a bust but untouchable. This is a player that came to the league with big expectations and turn out to be another underproductive Diva. Fortunately, he received a big wake up call when he was thrown over the curve by the NFL, just what this player needed to reach his potential. Now, he runs like he's running over every critic.
Runner –up: Brett Favre. After his 7th retirement and coming to a new team in the middle of preseason everyone expected Favre to start great, although he fade at midpoint. Crazy at it may sound it turns out that at his 40's he's playing better than his 20's. I just hope we don't have to go through all the drama again in the next offseason.
•
Offensive Rookie of The year: Percy Harvin.
To have this kid and Adrian Peterson in the same team is just not fair for the rest of the league. He has gain the respect and trust from Favre, he's a total difference maker it doesn't matter if he runs, returns or catch's the ball he's going to hurt the opposition.
Runner –up: Micheal Oher. If you want to see his stats watch what McGahee and Rice have run this year or the improvement Flacco has had. Just hope it's not another one year wonder Olineman.
•
Defensive Rookie of The year: Brian Cushing.
He started slow, but the light bulb turned on and he has become a tackling machine, he's all over the place making huge plays in that Texans defense.
Runner –up: Jairus Byrd. A second round pick CB turned to FS has played every game lead the league in int with7; second in pass deflections with 16. This kid is starting to make a name for himself. Orakpo deserves recognition for what he has done as a rusher if he only would be use like that all the time i still don't get why they're trying to make him a OLB in a 4-3 defense where he should be a DE.
Which Teams will make the Playoffs.
After watching at least 60% of the games played this season (not the highlights) and looking at the remaining schedule, these are the teams I believe have what it takes to make it. Some will be obvious choices based on their record and their rest of the division but there are a few surprises:
AFC
New England Patriots (6-2).-
They have a tough second half schedule with only 3 games at home and 4 teams of .500 including 2 undefeated teams. But with only 2 division games left and a 2 games lead over the Jets, it's easy to expect the patriots to make the playoffs this year; even if we all hate it.
Cincinnati Bengals (6-2).-
This weekend game can become a huge game for Cincinnati even if they lose it! And if they aim to take care of their soft schedule against Oakland, Cleveland, Detroit and Kansas City they could take the North based on Division record. The Steelers still have to face Baltimore twice and with their season on the line it will be tough for Pittsburgh to sweep them.
Indianapolis Colts (8-0).-
This is a no brainer: being undefeated and with a 4 game lead over Houston it would take a complete meltdown for the Colts to loose their division and even worse be out of the playoffs. The Colts have a tough second half schedule but even hitting .500 should be enough to take the division or at least make it to the playoffs.
Denver (6-2).-
This division could come down to next week's game with both teams having some easy games and other 3 tough games. San Diego is a team on the rise winning their last 3 games: two of those wins came against easy opponents and the last one against NY a team going in the opposite direction. So, that gave me the nod of choosing the Broncos.
Pittsburgh (6-2).-
This team is running under the radar which is hard for a Super Bowl winner but starting slow has made some media guys and teams doubt them. After 5 wins in a row some against tough opponents, it's hard to doubt there possibility even if they have a tough schedule ahead. I will be tough to see them folding in December.
Houston (5-4).-
Of all the teams in the bubble, they have by far the easiest schedule with games against Ten, Jac, Sea, Stl, Mia and Ne in week 17 (when they'll probably rest half the team)they could be the final Wildcard team over San Diego, Baltimore and Jets. Their only tough game is against Indianapolis at Home, a game they could win based on last week's surprise loss. The only things that worry me are not having Daniels and their 4th quarter drops… if they play well they should make it.
NFC
Dallas (6-2).-
Of the 3 teams playing for a spot in the NFC EAST, Dallas has the easiest schedule, which it isn't much, this last week's victory against Philadelphia could mean the Division for Dallas. Let me explain why: With 2 games left against Washington , games against Green Bay and Oakland they still could have a December debacle and make it the playoffs. This Division might come down to the week 17 game of Philadelphia at Dallas and if God wants to play a joke on them this game could be repeated the following week in the Wildcard Game.
Minnesota (7-1).-
With the loss of Green Bay and Chicago during their bye week Minnesota has practically secured their division. Don't expect them to slow down even with this because if a team needs a first round bye in the playoffs is Minnesota… specially grandpa Favre!
New Orleans (8-0).-
Another team like Indianapolis that has almost secured a spot in the playoffs. Atlanta is close (5-3) although for New Orleans to give up the division means to lose 4 games and Atlanta go 8-0 or be defeated at least 3 games (2 division games) so Atlanta would have a better division record.
Arizona (5-3).-
How quickly this division has changed, the hot start of San Francisco now has faded, this division is the one that worries me the most because it can change in a week. It looks like no team really wants it! With the performance of the teams, Arizona having a two game lead and with two games against St. Louis and 1 against Detroit; The Cardinals could take this division again with a 9-7 record.
Philadelphia (5-3).-
I don't see 3 teams of the NFC EAST going to the playoffs based on their schedule and of the two other teams. The Eagles look better right now; however this could change if NY's defense starts playing at their level. Eli Manning finally looked good last week after his injury but their secondary keeps giving away plays. If NY doesn't get over their hump, the Eagles would take one of the wildcard spots.
Atlanta (5-3).-
Of all the teams with a shot, the Falcons and Green Bay have the best chance to make it based on their schedule. So it came down to decide which of these two teams can expect to win the games they're supposed to and at least win one difficult game… Hint: last week's loss of Green Bay's gave me the answer I was looking for…
Who do I like Tonight
Chicago at San Francisco
-3 Ovr/Und 43.5
Chicago hasn't been good on the road with a 1-3 record, Cutler has improved but what has hurt that team believe it or not is the defense. They haven't been good against the run and they face Gore tonight. San Francisco started strong with a 3-1 record but after that they have gone 0-4. Teams have found ways to hurt what it looked like a dominant defense and they just can't seem to overcome that.
Straight:
Chi
Spread:
Chi
Ovr/Und
: Und